LAMINATION
Kreative Windows offers a wide range of options that can enhance the look and feel of your home or office space. Profiles can be laminated with a variety of colors and textures like solid colors or wood texture. Also a variety of colored profiles are availabl
EXTRUSION
Large-scale automatic mixing equipment ensures uniform mixing of ingredients of raw material scientifically and accurately. High-precision moulds used in profiles ensure dimensional accuracy and great surface finish.
REINFORCEMENT
Choosing Kreative Windows, lead free profiles, comes with an added advantage as we provide premium profiles along with suitable galvanized steel reinforcements, manufactured at Aparna's metal forming plant. Furthermore
World famous Krauss Maffei extrusion machinery from Germany
Profiles are made with superior lead free uPVC compound
Extrusion plant has the latest laboratory equipment certified by NABL accredited laboratory
ENERGY SAVING
Profiles can be up to 3 times more effective at maintaining cool temperatures within a building.
WATERPROOF
Kreative Windows uPVC profiles are fully resistant to strong tropical rain and remain leak proof.
SALT WATER
Saline water has no effect on Kreative Windows uPVC profiles.
HUMIDITY
Kreative Windows uPVC profiles will not warp, rot or break down in hot and humid climates.o.
TERMITE PROOF
Termites often destroy wooden Windows and wooden sub frames for aluminium Windows in tropical climates, but termites cannot attack uPVC.
NOISE REDUCTION
Kreative Windows profiles are designed with a double-seal system that allows for greatly reducing noise by 30-40 dB.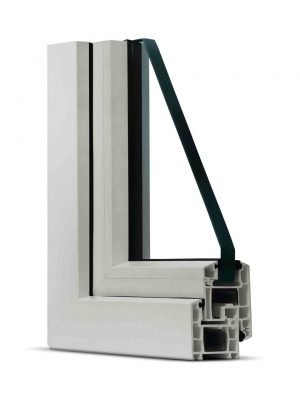 SECURITY
Kreative Windows uPVC profiles allow incorporation of multi-point high security locks. All locks and fittings are screwed into the steel core of the profile framing
FIRE RESISTANCE
Kreative Windows is self-extinguishing – it will not allow fire to spread due to fire retardant used in the mix. Kreative Windows profiles are manufactured to DIN standards.
POLLUTION FREE
Kreative Windows uses lead-free, environment-friendly uPVC profiles to meet greenline norms of European companies.
DURABILITY
Designed to last for the lifetime of their use, Kreative Windows profiles never need painting and will look as good as new for decades.
SUNLIGHT
With a heat insulation at least 2.2 times better than Aluminium profiles, Kreative Windows profiles control energy costs in buildings.
WIND
Ideally suited to seaside locations and for use in high-rise buildings, Kreative Windows profiles maintain their strength through fully reinforced galvanized steel inner frames